Replacement Dryer Conveyor Components
Among the most common replacements are conveyor belting components. Conveyor belts are made up of several components including: slats (also known as flights, plates, aprons, or pans), traveling side product guides, hingewire, and chain. These components are wear items because they are continually moving. Cresco offers high-quality replacement conveyor components to keep your process running smoothly.
Spare Parts Designed to Improve Performance
While we can provide identical part replacement, there are often opportunities to improve design from the original OEM part. We engage with customers to trouble-shoot existing designs and offer improved components that are interchangeable with or replace existing parts.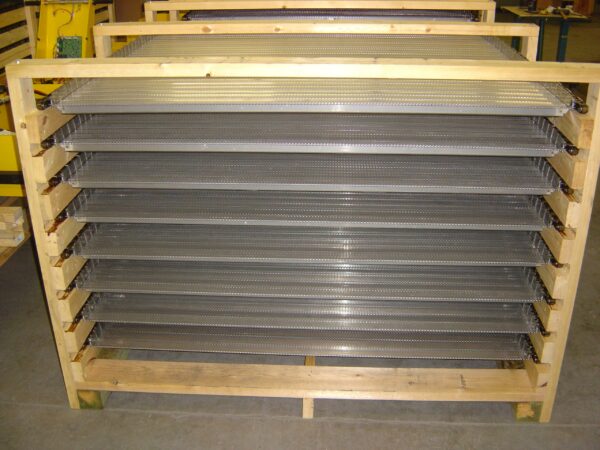 Components We Provide
Dryer Belting System
Assembled Belting — All Types
Perforated Slats (Also known as flights, plates, aprons, or pans)
Side Guards – Stationary and Traveling
Roller Chain — ANSI or Engineered
Replacement Chain Rails
Shaft and Sprocket Assemblies
Fan & Heating System
Replacement Steam Coils
Burners and Burner Parts
Replacement Fan Components
Fan Motors
Fan Assemblies – Including Complete Plug Fan Design
Other Dryer Components
Replacement Door Panels
Door Seals
Scrapers and Doffers
Lubrication Systems
Non-Stick Coatings for Slats & Belts
In addition to replacement parts, we provide, non-stick coatings for your slats and belts. These coatings reduce product sticking to your slat.